TAKRAF's dedicated range of mineral sizers are specifically tailored to suit a variety of applications around the world. Our sizers incorporate pre-engineered modules with application specific features that result in a cost-effective and economical solution boasting high availability, high maintainability and high value.
The TAKRAF sizer portfolio
We have applied our extensive experience in the mining and minerals industries in the configuration of each of our sizers in order to ensure that our machines exceed their real-life application requirements in terms of capacity, installed power, and product size.
The TAKRAF sizer portfolio covers primary and secondary (as well as tertiary) sizing applications. Our Standard Class Sizers offer a highly optimized and economical solution while our X-TREME Class Sizers offer maximum reliability in the most extreme conditions.
Download our latest sizer brochure here: TAKRAF X-TREME Class Sizers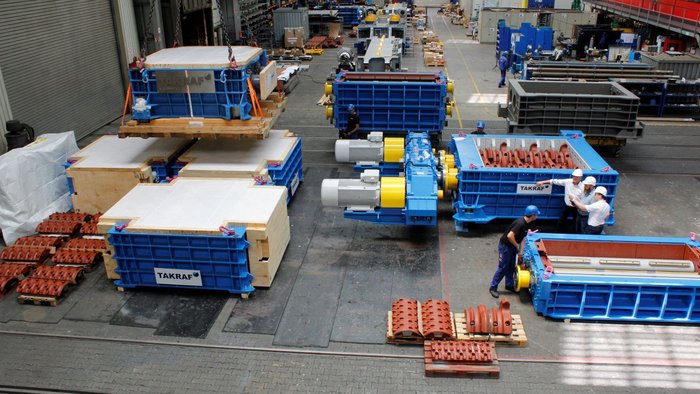 Primary and secondary sizing applications
Comparison table of basic machine parameters

| | | | | |
| --- | --- | --- | --- | --- |
| | Primary Sizer | Primary Sizer | Secondary Sizer | Secondary Sizer |
| | Standard | X-TREME | Standard | X-TREME |
| Feed size (mm) | 1,000 - 2,000 | 1,200 - 2,500 | 200 - 800 | 300 - 800 |
| Product size (mm) | 200 - 350 | 300 - 400 | 30 - 150 | 50 -150 |
| Throughput (t/h) | 1,200 - 8,000 | 1,200 - 12,000 | 800 - 3,600 | 800 - 4,500 |
| Max. UCS (MPa) | 120 | 200 (280)* | 120 | 200 (280)* |
| Typical feed material | coal, shale, bauxite | overburden, iron ore, copper, oil sands, limestone | coal, shale, bauxite | iron ore, copper ore, oil sands, limestone |
*subject to TAKRAF's Minerals Laboratory tests
Key features of our sizer machines
Some of the key features of our machines include:
Modular wear components are easy to handle and change-out procedures can be conducted in position
Heavy-duty bearing design ensures the longest lifetime in the toughest of applications
Split housing design enables the easy replacement of complete roll assemblies
Bolted tooth system enable worn teeth to be replaced in seconds
Quick release crushing segments enable the targeted and efficient replacement of individual plates
Integrated moving unit enables the entire unit to slide into its maintenance position for safe and quick maintenance-procedures
Optimized maintenance for increased availability
All TAKRAF sizers are engineered with maintenance in mind. Each component is designed to be quickly and efficiently replaced. The reduced downtime for maintenance means that the machine gets back to production as soon as possible.
When minutes count, make the most of every second!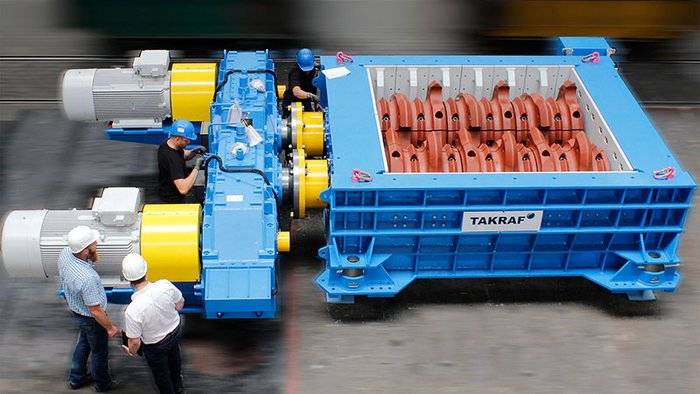 TAKRAF Minerals Laboratory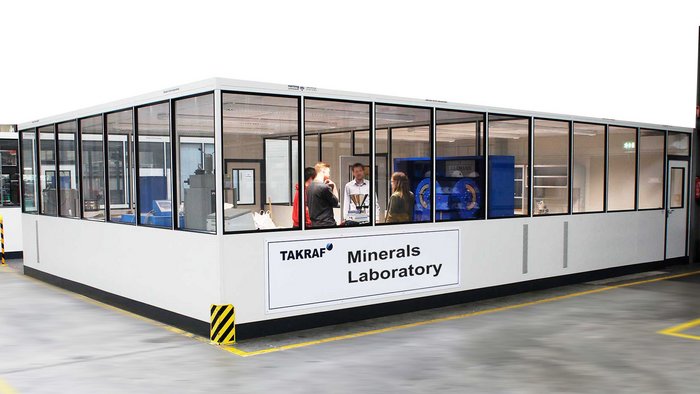 The testwork that we perform in the laboratory is the first step towards getting the right TAKRAF sizer installed in your application. In the lab, our team of experts run a full spectrum of tests to establish the strength, abrasiveness, crushability and friability of your material. We then analyze and use this data, together with our significant experience and know-how, in order to select the ideal sizer configuration for your specific requirements boasting optimized drive power, tooth configuration and abrasion protection.
For testing and/or any other enquiries, please contact us at: info@takraf.com
References
Hard Rock Sizers

in Kazakhstan

Customer
Project Name
Crushing plant Vostochny
Eurasian Natural Resources Corporation
Open-pit mine Vostochny, Ekibastuz
2013

Sizer in open-pit mine Vostochny

Based on the experiences of TAKRAF in coal crushers and crushing plants the first hard rock sizers for overburden of up to 200 MPa was successfully installed at the Vostochny mine to crush lumps of up to 2,500 mm down to a conveyable size.

Project figures

Overburden, mainly sandstone and siltstone
4,250 t/h (max. 6,000 t/h)
indirect by apron feeder
Value for Money

High reliability and excellent maintainability result in optimum availability
Optimized tooth configurations for guaranteed product sizing
TAKRAF manufactured components ensure quality and expedited delivery times
Modularized wear part design allows all wear plates to reach their full lifetime

Efficiency

Primary sizer range covers throughputs up to 12,000 t/h
Secondary sizer range covers up to 4,500 t/h and is available in either center or side configuration depending on the specific requirements
Customizable crushing segments to suit your application

Safety

Double overload protection by hydraulic system and safety coupling
Safe sizer roll positioning by inching drive and maintenance brake

Service

Integrated moving unit allows the sizer to be moved into maintenance position quickly
Wear parts are easy to handle so that they can be changed out quickly and safely
Fit-for-purpose maintenance tools customized to your plant operations

Environment

Low dust emissions due to minimum fine generation during crushing
Low profile for less truck haulage
Low energy consumption and noise level
Compact footprint for smaller surrounding structure

Technical Excellence

300 years of mining and minerals expertise is the design and development of our sizer design
TAKRAF Minerals Laboratory is used to help select the optimized drive power and abrasion resistance for your application
In-house DEM analysis software optimizes tooth configuration for your process requirements
CONTACT US
Do you have any questions or would you like further information?
We look forward to your inquiry at: info@takraf.com