Ship loaders are specifically designed machines that are used to effectively load a vessel continuously and are generally employed in all applications where medium to high flow rates are required.
Ship loaders catering to various capacities and vessel sizes
TAKRAF ship loaders can be employed across a wide-variety of applications, although they are particularly suited to applications requiring medium to high flow rates and continuous vessel loading. Our loading systems are able to cover a wide-range of flow rates and/or vessel sizes and our typical systems cover the following sizes:
Loading capacity: 1,000 t/h to 20,000 t/h
Vessel size: 5,000 DWT to 350,000 DWT
Systems specifically designed to your unique requirements
Our loading systems are all specifically designed to our client's unique requirements and incorporate various solutions according to their specific application, including actual site conditions and the minimizing of environmental impact. As a result, no loader is the same and each is uniquely designed for purpose. Specific requirements often include:
Local laws and regulations
Environmental requirements
Various options and features can be included
Our machines cover linear-type variants with rotating, raising and lowering shuttle booms and can be either rail-mounted or fixed/stationary. In addition, our ship loaders can be equipped with a variety of different loading chutes depending on specific applications, customer requirements and required environmental compliance.
Rail-mounted mobility
Our rail-mounted ship loaders include a tripper car supplying material to be conveyed which is generally located either between the rails or beyond the landside running rail of the ship loader. Depending on specific customer and/or environmental requirements, we are able to shield the tripper car and pier conveyor belt from the external environment with an enclosed pier bridge.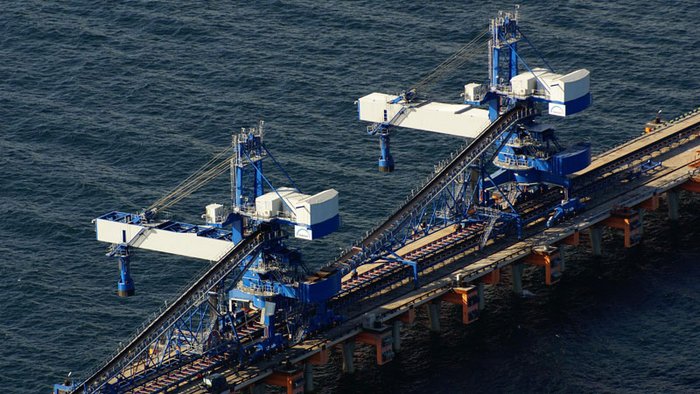 Rotating or swiveling functionality
For applications in which vessels are loaded on a finger pier with double-sided berthing, we are able to equip our ship loaders with a rotating or swiveling function. In this instance, the tripper car and pier conveyor belt are located between the rails of the ship loader, with the advantage that the ship loader and tripper car can all run on one rail. For piers with unilateral berthing and vessels with predominantly upright loading hatches, a non-rotating ship loader with a shuttle boom is employed. In this instance, the tripper car is installed on a separate pier bridge beyond the landside running rail of the ship loader and runs on independent rails.
Fixed or stationary solutions
Fixed ship loaders are generally employed in instances where environmentally hazardous material is to be loaded. A significant advantage of these machines is the excellent encapsulation of the feed route so that there is virtually no release of material into the environment – together with protection of the feed material from the elements. The drawback of these machines is that, in many instances, the vessel must be moved, either forward or back, for the purposes of loading into a different hatch.
Automation and remote control capabilities
Our machines are generally operated manually, however they are assisted by a variety of various systems including the automatic shutdown of a specific loading sequence or the automatic tracking of the telescopic slide on the fill level within the vessel's hatch. We are also able to equip our machines with a remote control facility that enables the operator to operate the machine directly from the hatches of the vessel so that they are able to maneuver into hatch corners and ensure complete loading of all material.
Integrated port facilities and systems
TAKRAF's port solutions are employed throughout the world. Boasting high technical standards and state-of-the-art designs, our systems satisfy the toughest demands faced by modern ports.
TAKRAF's product range includes:
Ship-to-shore handling facilities employing grab-type unloading machines
Various equipment for the continuous handling, storage and reclaiming of material from various areas including conveyors, stackers, reclaimers, etc.
Shore-to-ship handling facilities employing ship loading machines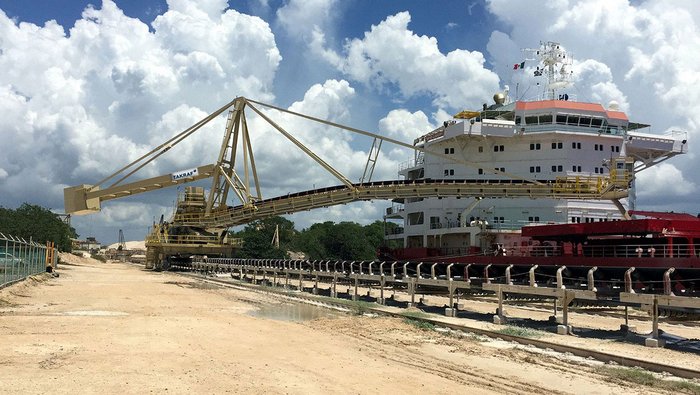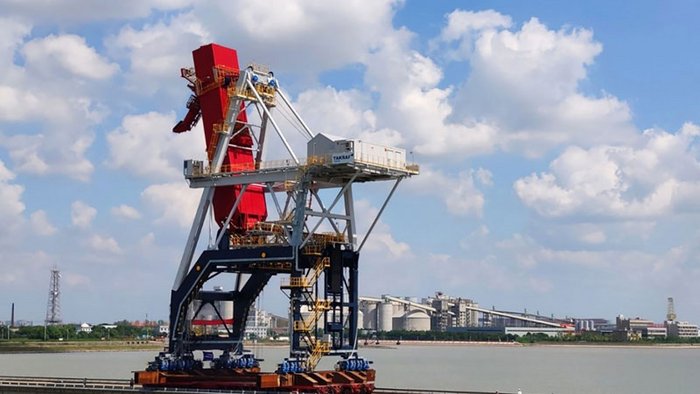 References
Customer
Project Name
Wanino
SUEK Russia
Coal terminal Wanino
2007

Ship loader for coal

This machine is part of a complex stockyard system delivered completely by TAKRAF. The machine was designed to be able to operate in an extreme temperature range from -42 °C up to +39 °C.

Project figures

Ship Loader

in South Africa

Customer
Project Name
PORTNET
PORTNET
Port of Richards Bay
2002

Ship loader with discharge chutes for different materials

This ship loader is luffable via winch and equipped with a shuttle. It is possible to use 3 interchangeable discharge chutes for different materials. The stockyard conveyor system is completely covered with automatic opening when the ship loader moves on the quay.

Project figures
Value for Money

Depending on requirements, our machines can be either fixed/stationary or mobile (linear-type on rails) with rotating, raising and lowering shuttle booms.

Efficiency

We design, fabricate and supply a wide-range of ship loading machines ranging from 1,000 t/h to 20,000 t/h and catering to vessels ranging from 5,000 DWT to 350,000 DWT

Environment

Due to the enclosed nature of fixed-type loaders, they significantly reduce the environmental footprint, specifically dust emissions

Digitalization

Our machines are operated manually, however they are supplemented by various systems. In many instances, we equip our machines with a remote control facility which enables the operator to manoeuvre the loading equipment directly from the hatches of the vessel into the hatch corners
CONTACT US
Do you have any questions or would you like further information?
We look forward to your inquiry at: info@takraf.com