Filter presses for dewatering mineral process slurries
Environmental-friendly filter presses, developed and supplied by DELKOR ensure flexible operation, reliability and easy maintenance. Our filter presses are suitable for various dewatering applications, from mineral concentrates and tailings filtration, to polishing and electrolytic processes.
What makes a DELKOR Filter Press (FP) unique? The fact that it boasts a heavy-duty design specific to mining applications and is fully customized according to your individual process requirements.
We do not only sell equipment - we are your global partner that can provide complete solutions for liquid/solid separation processes. Purchasing a DELKOR FP means more than just having the best available filter press technology in the market; it also means receiving the best support, covering both process and utilization, throughout the equipment's entire life.
Applications
We design and customize our sustainable filter presses according to your specific process requirements. Our equipment effectively cater to a range of material types ranging from coarse to very fine materials across industries including mining, aggregates, chemical, iron & steel and water treatment.

Leveraging our network of own laboratories, we are able to ensure we select and configure the right type and size of machine for your specific application.
The table below provides a brief overview of some of the applications we cover:
Mining

Non-Mining

Tailings (DST) applications
Mineral concentrates
Merrill-Crowe process
Precipitation
Leaching
Rare earths
Lithium
Precious metals
Electrolytic process
Acid mine drainage

Fertilizer
Metallurgical
Chemical and pharmaceutical
Soil washing/dredging
Sand and gravel
Wastewater treatment
Oil and gas
Portfolio Summary
Our unique portfolio of two filter press technologies allows us to select the machine that is best suited to your specific process application and requirements. Each typology then boasts a number of different features and optional equipment that enable us to finely tailor and customize the machine to your specific application.
In addition, each machine can be built in a variety of different material types (from carbon steel to stainless steel to high-alloyed steel grades) or coated and protected in different ways in order to ensure resistance to corrosive sludge and substances.
DELKOR Overhead Filter Press (FP OH) - Overhead Beam Technology
This heavy-duty machine is best suited to high-volume applications where one requires a reliable filter in which many plates can be installed. This is the case, for example, for tailings dewatering applications, where we have successfully delivered a number of such machines for various tailings dewatering processes - from gold to iron ore.
Main technical features:
| | |
| --- | --- |
| Plate size: | From 1,000 x 1,000 mm to 2,500 x 2,500 mm |
| Number of chambers: | Up to 215 plates |
| Operating pressure: | Up to 25 bar |
| Opening: | Fully automatic – one-by-one |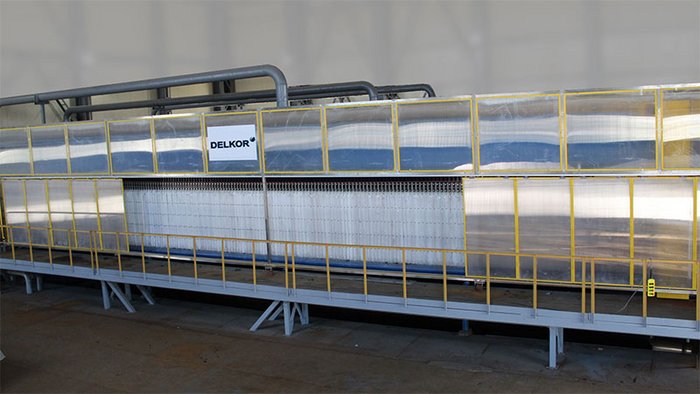 DELKOR Sidebar Filter Press (FP SB) - Sidebar Technology
The sidebar technology lends itself well to smaller slurry quantities where a cost-effective machine is required or for very special applications with long filtration times. This is the case, for example, for the treatment of lithium hydroxide and copper concentrates.
Main technical features:
| | |
| --- | --- |
| Plate size: | From 630 x 630 mm to 1,500 x 1,500 mm |
| Number of chambers: | Up to 120 plates |
| Operating pressure: | Up to 15 bar |
| Opening: | Manual or fully automatic – one-by-one, at once or batch |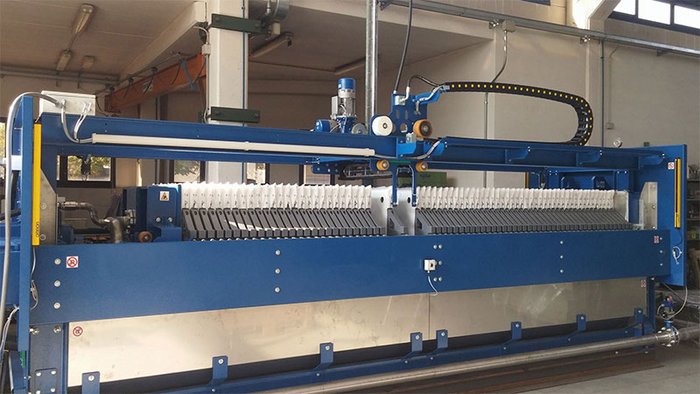 Optional Features
We also provide a range of optional features that can further enhance the capabilities of your machine, ensuring that it caters exactly to your specific requirements.
Your local DELKOR specialist can assist you in explaining some of the merits of these features:
| | |
| --- | --- |
| Cloth washing: | High pressure or low pressure. Both systems are available on all machines. |
| Cloth shaking: | Shaking of filtration cloths at the end of each cycle for an improved removal of solids. Available on sidebar machines. |
| Drip trays: | Collection of drip water from cloth washing – improving environmental sustainability! |
| Smoke hoods: | Necessary when filtering toxic substances. In this case, the filter press is fully enclosed and does not permit the escape of harmful smoke. |
| Automatic end of filtration: | A variety of different systems and sensors can be employed to detect the end of filtration (flow meter, pressure transducers, load cells etc.). Your DELKOR specialist will be able to determine the best suited to your application. |
| Sludge feeding pumps: | Sludge can be fed through a number of different pumping technologies. Your DELKOR specialist will select the most appropriate, taking into consideration the type of sludge, the working environment and the filtration process. |
| Automation: | Our machines can be completely automated with PLC programs featuring remote control, remote diagnostic and/or maintenance. |
| Cake handling: | DELKOR, together with TAKRAF, can offer a wide range of crushing/cake breaker and conveying solutions in order to handle the solid cake ejected from the filter press. |

Complete solutions for liquid/solid separation
TAKRAF, together with DELKOR, boasts a wide portfolio of products that enable us to provide complete turnkey solutions and equipment for tailings, minerals and soil processing. Refer to the image below for a brief example of our dewatering solutions for complete Dry Stack Tailings (DST) management.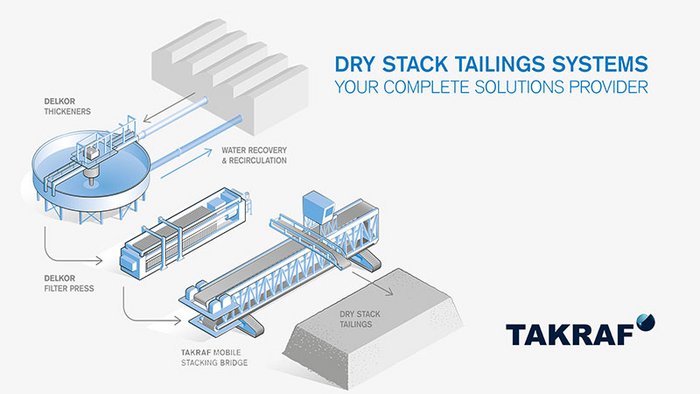 How to contact your DELKOR specialist?
For any further information regarding our competencies and capabilities in pressure filtration, please send an e-mail to: info@takraf.com or contact an office from our contacts page.
References
DELKOR FP Overhead Beam (OH)

in Uzbekistan

Customer
Project Name
Navoi Mining & Metallurgical Combinat (NGMK) – www.ngmk.uz
Uzbekistan
2019

DELKOR FP OH for gold tailings dewatering in Uzbekistan

3 x DELKOR FP OH filter presses as part of the gold mine processing plant's gold tailings dewatering system. Each machine features mixed membrane filter plates together with a high-pressure cloth-washing robot and boasts a processing capacity of ~120 m3/h gold tailing sludge (~71 t/h of dry solids). The supply also included various ancillary equipment, including: belt conveyors for cakes discharged from the filter press (each machine is equipped with a cake breaker), pumping skids for membrane inflation, filter cake washing pumps and high-pressure cloth washing pumps. The entire scope of supply, including the slurry feed pumps, is fully controlled and managed by state-of-the-art software. Within this system, filter cakes are washed inside the filter with process water in order to remove any unwanted residual cyanides. The process designed for this application also includes cake squeezing (with pressurized water) and cake air blowing in order to achieve lower moisture levels within the final product.

Single equipment figures

Overhead Beam (OH)
2,000 x 2,000
Mixed membrane pack

DELKOR FP Sidebar (SB)

in Chile

Customer
Project Name
Sociedad Quimica y Minera de Chile S.A. (SQM)
Salar del Carmen, Antofagasta - Chile
2018

DELKOR FP SB for lithium hydroxide dewatering in Chile

Solutions with high concentrations of lithium coming from potassium chloride production at the Atacama Salt Lake are collected and, as part of SQM's expansion plans for its Salar del Carmen operations, 2 x DELKOR filter presses for lithium hydroxide dewatering, together with various ancillary equipment, were required.

Single equipment figures

Sidebar (SB)
800 x 800
Mixed membrane pack
Value for Money

Increased throughput through:

shorter technical times
reduced downtime

Efficiency

Increased machine availability through:

longer plate and cloth life
better edge sealing
lighter frame
simple control
reduced leakages
no fire suppression system

Safety

Reduced leakages
No plate misalignment
No frame bending
Low pressure
Automatic misalignment detection

Service

Highly specialized technicians available on-site within 24 to 48 hours
Remote control

Digitalization

Remote control for real-time assistance, equipment monitoring and service
CONTACT US
Do you have any questions or would you like further information?
We look forward to your inquiry at: info@takraf.com